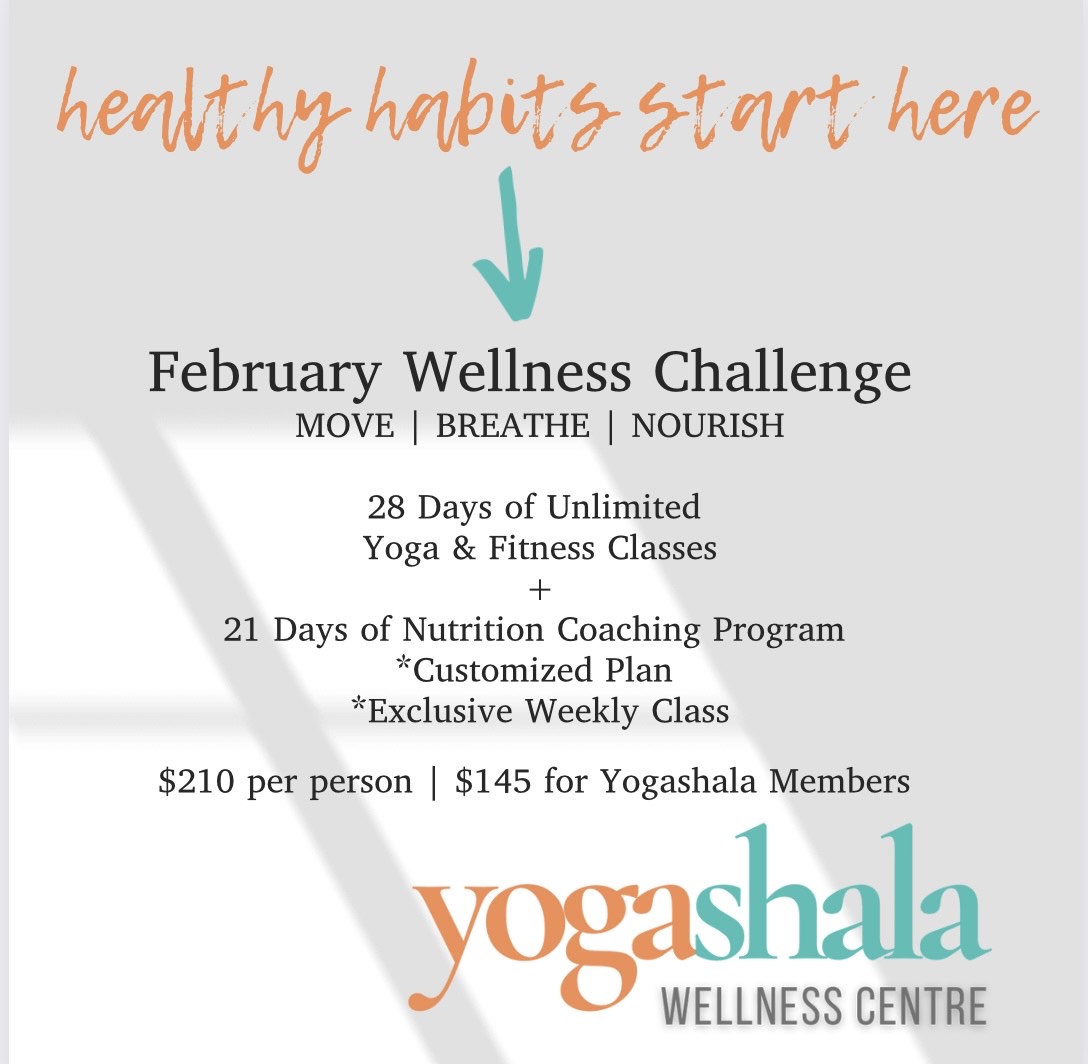 Exciting NEW Offering for February 2023
in Partnership with The Yogashala Wellness Centre

Healthy Habits Start Here!
Join our FEBRUARY WELLNESS CHALLENGE and set your intentions to MOVE, BREATHE & NOURISH in support of your WELLNESS GOALS! Use this challenge to create new habits or refocus and reignite - and put your wellness at the top of your priority list. You will be amazed by what you can accomplish when you COMMIT to move, breathe and nourish to flourish EVERY DAY! The added support of a nutrition coach, and a like-minded community of others also striving to improve their wellness, makes our February Challenge unique! JOIN US! REGISTER TODAY
INCLUDED: Choose to participate in both, or just the 21 Day Nutrition Challenge
+28 Day Unlimited Class Pass for Fitness and Yoga classes / Studio & Zoom
We challenge you to attend class EVERY DAY - more than once if you would like to - for the entire month of February - 1st to the 28th. Over 50 classes per week to select from! Check out the SCHEDULE
+21 Day Nutrition Coaching Program / Studio & Zoom
with Jackie Gaulton, PN Nutrition Coach, Yoga Teacher - RYT 500, ERYT 200, YACEP
✔️Personalized Nutrition Plan & Guide based on your Wellness Goals (PDF)
✔️Daily Motivational Email
✔️Weekly Sunday 2pm Group Coaching Meeting: February 5th, 12th, 19th & 26th
✔️followed by a Weekly Sunday Savasana Yoga Class 2:30pm - 3:30pm
Each participant will be asked to fill out an intake questionnaire and using this information Jackie will provide each participant with their own personalized nutrition plan and guide based on their wellness goals and their "why's". For example - to feel better, have more energy, lose weight, make more nutritious choices, improve everyday quality of life. Simple to follow nutrition guidelines will be provided, with helpful infographics, as well as custom tracking forms for food and activities for the duration of the challenge. There is no calorie counting, or foods that are off-limits, just better choices that can be made!
Every day of the 21 days you will receive a motivational email to support, educate and encourage you! This will include helpful articles, recipes, and reminders about daily class options at The Yogashala.
Each Sunday of the Challenge, February 5th, 12th, 19th & 26th from 2pm to 3:30pm we will meet as a group and Jackie will provide you with additional nutrition guidance and habit focus for the coming week and answer any questions that you have. The 30 minute meeting will be followed by an exclusive one hour restorative "Sunday Savasana" yoga class to assist in the down-regulation of your nervous system and to help optimize the benefits of your new healthy habits!
COST:
: $210 +tax for each participant for 21 Day & 28 Day Challenge Combo
: $145 +tax for ONLY participation in the 21 Day Group Nutrition Challenge - includes exclusive Sunday class with Jackie, but no other classes at The Yogashala / For this pricing, when registering use code: wellness
: $145 +tax for Yogashala Unlimited Members / For this pricing, when registering use code: wellness
*Once you have registered Jackie will email you with required forms and information.
REGISTRATION for FEBRUARY CHALLENGE - click here!

Nutrition Coaching Online - Individual
You are ready to make a change, and I want to help you
. With the right support and ongoing encouragement your goals for better health and nutrition, wellness, and optimal weight are within your reach. You are unique, and so your nutrition plan has to be personalized to suit your specific needs and objectives. We will work together to keep you focused and successful - learning new nutrition skills and building habits so you can maintain your new healthy choices. This is a whole health approach to wellness that considers all biopsychosocial factors of your life. You and I do this together, I am with you every step of the way - personally engaged in helping you achieve your goals.
Online Nutrition Coaching
:
Start Where You Are - 6 Week Package $325
After an initial assessment, together we will establish your wellness goals and create a plan to get you there. We will meet every week for 30 minutes - on the phone, so convenient - and EVERYDAY I will personally be available and supporting you via email and text.
INCLUDES:
- Initial Assessment & Customized Nutrition Plan Package based on YOU and your goals
- Six 30 minute Coaching Meetings (weekly 30 minutes)
- Daily Email/Text Support
Other Coaching Options:
Want to continue with coaching?

Sometimes 6 weeks is not enough and you would like to continue with coaching and maintain the momentum:
Additional 6 weeks $280
Just need a one-on-one coaching chat?
Single 45 minute Coaching Session $65
Email me
for more information and take the next step towards meeting your goal - asking me to help you get there!

TESTIMONIALS
"
As I move through midlife I want to continue doing the things I love like walking, hiking, canoeing and camping! I want to know that I am doing all that I can to optimize overall health. Jackie has offered excellent nutrition and life balance guidance and, at the end of my six week journey with her I feel great! My energy levels are better – no mid afternoon slump – I sleep better, my hot flashes have been reduced and there is more balance in what I eat throughout the day. I feel good knowing that I am doing what I can to support healthy living."


"I lost 25 lbs in 3 months!! It was easier to follow than I thought it would be. I learned a lot about different types of food and how they work together to provide a healthy balance. Jackie provided support and encouragement on my journey as well as providing some delicious, healthy recipes…she's an amazing nutrition coach! I feel healthier, stronger and have more energy. I highly recommend Jackie and her program."

"Diets and willpower: For years it is what I thought was necessary to lose weight. Jackie taught me that healthy eating and a healthy lifestyle does not mean deprivation. In fact the opposite is true, It means strength, energy and confidence. Through one on one coaching with Jackie I Iost 12 pounds and 4 inches in 3 months. Like many people I thought I knew a lot about healthy eating. While I was off to a good start, I was not seeing the results I wanted. I had a lot to learn and more importantly... unlearn. Jackie provided the very necessary education around food and old mindsets that dictate behavioral patterns. Most importantly, Jackie provided the support and encouragement to help guide me on the path to wellness. My journey continues, but I am armed with the knowledge, confidence and support (when/ if needed) to continue my success. Jackie understands that while you can not always be perfect, you can build the skills necessary that will keep your true to yourself, honoring your body and mind. When you're ready to stop making excuses... call Jackie!!

"Jackie has been great to work with, her program is straightforward and easy to learn and follow. Her daily inspirations are wonderful and the weekly check ins were always super helpful. If you have any questions she was always available to answer and provided great suggestions. She helped me think about the mental aspect of weight loss and managing my health, which I hadn't really focused on before. I would recommend Jackie's program to anyone. Thanks for helping with my health journey!" {before & after photos below}